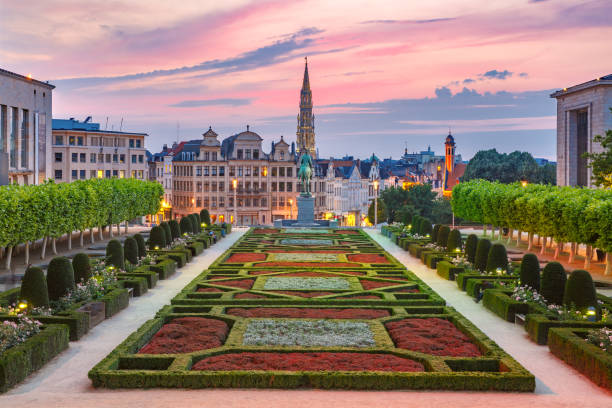 Find Cannabis in Brussels:
The capital of Belgium, Brussels, is one of Europe's most vibrant cities with stunning architecture. The vibe of the city is hard to put your finger on. Sometimes it seems very business and bureaucracy focused, it is after all the administerial centre of the EU.
Brussels' multi-layered atmosphere makes it such a great city to visit. It truly has something for everyone and offers European staples such as art and architecture alongside more unusual attractions.
A stoner who intend to spend couple of days in the city will get to know popular weed smoking spots. Also be able to visit more obscure, but equally fascinating attractions. Let's have a look at cannabis laws and how to get weed in Brussels.
Cannabis law and legislation in Belgium – Cannabis in Brussels
Is weed legal in Brussels. Cannabis and any activities that involve the plant remain illegal in Brussels. Two years ago, if you have small quantity of weed, you will face no consequences. Today, it's impossible, and if a police officer discovers you in possession of cannabis, even in tiny amounts, he or she may lock you up and file charges against you. Usually, if you merely possess a little amount of cannabis for personal use, it will be confiscated without any further action against you. You may get in trouble even if it is spread out among several little baggies. In Brussels, selling cannabis is a severe offense that might land you in jail.
Although Belgium still has considerably more permissive laws than other European nations. The fact that the legislation is shifting away from cannabis legalization and toward harsher penalties is concerning. Despite being adjacent to the Netherlands, Belgium does not support the use of cannabis too much.
How and Where to get weed in Brussels
If you don't know anyone in the city, Matong is the famous place to buy cannabis in Brussels. Every step in this area is accompanied by the smell of high-quality weed. Be cautious because the authorities are aware of that location and frequent raids occur there. Another location where you may find good-quality weed is Louise. You can smell cannabis emanating from young individuals in small groups just by walking by.
Brussels is about an hour from the Dutch border, therefore it would be safer to just cross the border and visit their coffee shops to smoke the best cannabis you can find. However, if you wish to import weed from the Netherlands, you must exercise caution. Drug trafficking is illegal across borders, and police dogs may be present at the Brussels railway station.
Cannabis Prices in Brussels: A gram of weed will often cost you 10 Euros. Even if this can seem a bit pricey, bear in mind that the quality will be above average, making the deal worthwhile. Additionally, you may get about 25 grams of hash for 150 Euros, or 8 Euros each gram. Bud can cost 30 Euros for 3.5 grams, however prices vary from location to location and dealer to dealer.
Kindly drop your comments below on how and where you managed to buy weed in Brussels.